It was for opening the doors of perception. Perceiving why we're alive on this planet, where we've come from, where we're going. Answering those basic human questions that all people have asked themselves. Then bringing that information back and getting into your rehearsal studio, getting into the recording studio, creating your music, creating your songs, creating your words. That's where all of that came out. You didn't do it on LSD. LSD was your foundation. Psychedelics were your foundation on which to build.
By Max Bell, November 12, 2016

They started the Summer Of Love a pop phenomenon and ended it in whirlwind of booze, LSD and out-of-control hedonism. Yet in between, The Doors still managed to make their unsung masterpiece.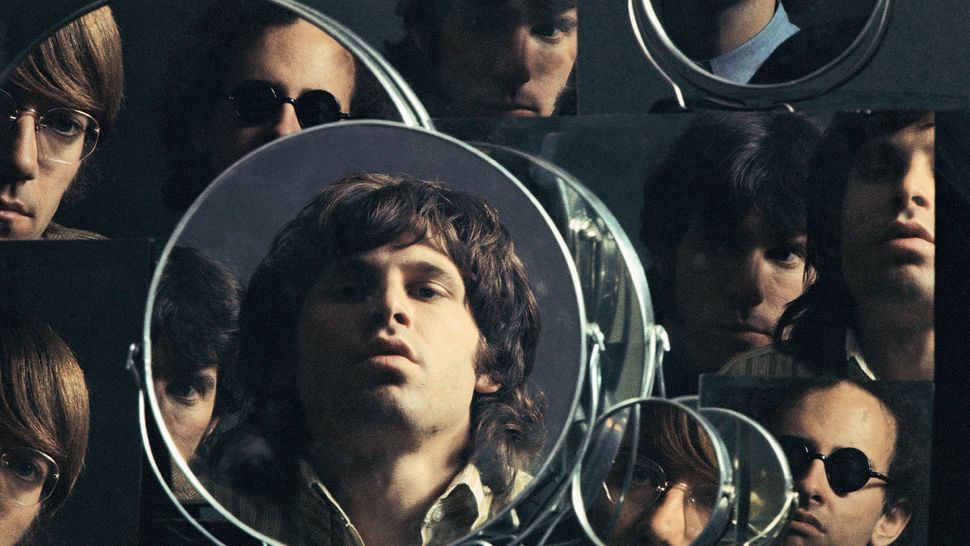 Through the looking glass: The Doors in 1967
New York City, April 1967, Ondine Discotheque on 59th Street. Standing at the bar throwing back double shots of vodka and orange is Jim Morrison, 23-year-old singer of rising stars The Doors, who are halfway into their third residency at the club. In his new black leather suit, his tea-coloured hair falling in angelic ringlets about his face, Morrison looks exactly as he's remembered now, 45 years later: the iconic rock god in mock crucifixion pose, nailed to the cross of his own imperturbable beauty.
Looking on is pop artist and underground film-maker, Andy Warhol, who has been obsessively in thrall to Morrison since he first clapped eyes on him some months before. Warhol wants Morrison to appear in one of his films, naked and surrounded by Warhol's Factory 'girls', some of whom are not girls at all, nor even good facsimiles; some of whom, like Nico, are so ball-achingly beautiful Morrison will soon begin a brief, hopelessly doomed affair with her.
Warhol, never normally shy about introducing himself to the beautiful and the damned, can't bring himself to approach Morrison. He's too scared of what might happen if he interrupts the rock star from the attentions he's receiving from two equally enthralled female fans, one of whom has the singer's penis in her mouth while the other unbuttons her cheesecloth blouse so Morrison can drunkenly fondle her breasts.
"Oh gee," sighs Warhol, his stock response to any situation in which he finds himself reeling. "I guess I'll talk to Jim later…"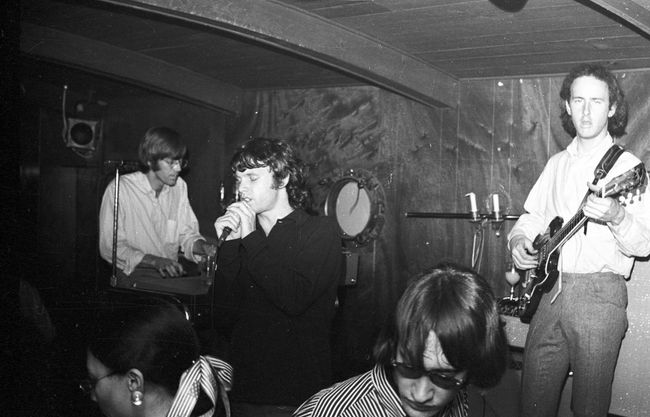 The Doors onstage at Ondine nightclub in November 1966
But later never comes, not on this trip anyway. Despite giving some of the most powerful performances of The Doors' short career, Morrison's offstage life is going to hell. He may look like a decadent angel, but inside he's fighting just to keep his head above the dark waters he now finds himself in. He's caught between his own idealised vision of himself as a hedonistic poet and artist and the earthier expectations of a record company, Elektra, who are about to enjoy the biggest success of their existence with Light My Fire, the second single lifted from The Doors' self-titled debut album that is on its way to becoming the fluke hit of the summer.
Though no one is saying it – at least not to the faces of the band themselves – Elektra and everyone else in the music business know this is The Doors' big break, and one they would be fools not to capitalise on by coming up with a convincing follow-up as soon as possible. Within a few weeks, The Doors will be flown back to Los Angeles and bundled into Sunset Sound studio, the featureless four-track bunker where they recorded their first album, and where, under pressure, they will start work on their second album.
These sessions will be abandoned, as Light My Fire overtakes The Beatles to become the defining hit of this most intoxicating of summers, but not before The Doors have recorded two tracks that will become their next single and its B-side: People Are Strange and Unhappy Girl. Everybody is excited about the new songs. What nobody knows yet is that this is just the beginning of what will become much more than a rushed follow-up to a band's debut hit; that this album, Strange Days, will eventually become The Doors' unsung masterpiece.
But right now, Morrison is barely aware of his present, let alone his future. He might not know it, but standing at the bar of Ondine, only partly conscious as he throws back the booze, wheedles Quaaludes out of strangers and gets his ego massaged to orgasm, he has already begun his fast track ascent towards rock god status, and along with it, his personal descent into the quagmire.
https://youtu.be/tEXlWgMOtqc
When he's not drinking he's tripping, and when he's tripping he's still drinking. Torn apart by the wayward behaviour of his long-term girlfriend, Pamela Courson, who has begun sleeping with one of his drinking buddies back in LA, Morrison is roaming wild but not free. Each night he stays on at the club after The Doors have finished their set, drinking until he blacks out, at which point he is carried to a cab and driven back to the apartment on 45th Street. Most mornings he awakes to find at least one, sometimes two or three groupies sharing his bed: girls whose names he doesn't know or will ever bother to learn. One night at around 4am, while drunk and tripping, Morrison decides to pay a visit to Jac Holzman, the head of Elektra, pounding on the door to be let in while Jac and his family hide inside, fearing for their lives.
These are bad scenes, even for the anything-goes rock milieu of the late 1960s. Morrison doesn't care, though. The only thing he gives a fuck about, he says, are his music and his poetry. Meanwhile, the rest of The Doors – keyboardist Ray Manzarek, guitarist Robby Krieger and drummer John Densmore – can only look on and wonder 'what if?'.
"You know, self-destruction and creativity don't have to come in the same package," Densmore ruefully remarks now. "Picasso lived to be 90. But in Jim they came together so I had to accept it. We all had to. That was the card we were dealt as a band."
"With Jim, it wasn't always easy," adds Krieger. "It was worth it because of the stuff that we got. But it would have been a lot easier if he'd been just a normal genius."
Genius or not, Jim Morrison had never been what passed in the mid-20th century for a normal person. The eldest son of Rear Admiral George Morrison of the United States Navy, he grew up a well-educated but self-absorbed child who became a major disappointment to his father when, instead of following in the family footsteps and going to naval college, he plumped instead for a degree course in film studies in Los Angeles. This was where he met the professorial Ray Manzarek, another parental disappointment who'd already tried his hand at forming a rock group with his brothers. In 1965, Morrison sang Manzarek the opening verse to the song that became Moonlight Drive, while tripping on the beach at Venice. Manzarek famously "saw dollar signs" as Morrison crooned him his as-yet musically unaccompanied verse. Morrison, famously, saw only stars.
The band that they formed, The Doors, arrived just as rock was at its most fearsomely individualistic, before the rules of the road had been written. "We would make our own rules," Manzarek explains, his deep baritone booming down the line from his home in the Napa Valley in Northern California.
"Because we have ingested LSD, we have opened the doors of perception. And we have seen that we are the equal, and perhaps better, of any generation that ever existed – that we could do anything. And we were so fuelled with life and possibilities that we were bursting at the seams, mentally and certainly semen-wise. We were bursting with life."
By the start of 1967, the first, self-titled Doors album was ready for release. Now acclaimed as a cornerstone moment in the history of rock, it wasn't until April of that year, when producer Paul Rothchild took the seven-minute Robby Krieger-penned Light My Fire and cut it in half for release as their second single – and their first No.1 – that The Doors became known outside what was then still an almost claustrophobic LA scene. It was also then that Jim Morrison, college dropout and hippy Hollywood maverick, began his transformation into the Lizard King – the alternate, take-noprisoners, no-one-here-gets-out-alive rock-consciousness that would ultimately both build his legend and deprive him of his senses, until all that was left was a bloated body floating in a cold bathtub.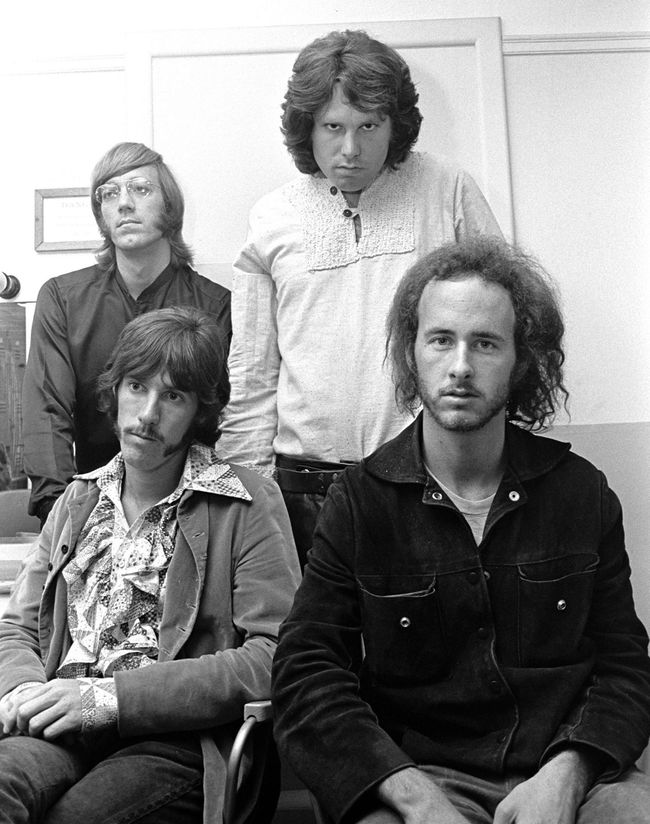 The Doors in London, 1967
he success of Light My Fire coincided with Morrison's first public appearances in his new black leather outfit. Just six months before, the band had been depicted in promo shots wearing mod-style suits, their longish hair neatly styled.
Now, with their first album smoking up the charts, they emerged on to the covers of magazines as the epitome of a darker, more mysterious kind of cool. Morrison's neo Gothic croon and Manzarek's ghostly, cathedral-like organ spoke of murkier climes than those offered by The Beatles' brand of polychromatic pop. If Sgt Pepper was the symbol of pop's raising from gutter-level singsong to symphonic high art, The Doors gave the lie to such positivism, drawing on the growing feeling of 'us against them' that pervaded a generation of young Americans in fear of the draft to Vietnam, or in protest against what they saw as the overarching dead hand of a society where long hair was now a symbol of angry defiance.
On the surface then, The Doors seemed to be on-message like no other band of the moment. Yet as Manzarek says, "There really were no plans. We were excited that our record was doing so well but that wasn't what was driving us forward. It was the thought of what we might do next. Suddenly it felt like we could do anything…"
Strange Days, then, would be aptly named. The first track they recorded, a song Morrison and Krieger had written together called People Are Strange, had been the result of a bad trip Morrison had needed Krieger to talk him down from at five o'clock one morning, at the tiny hilltop villa they shared in Laurel Canyon.
"He was talking about killing himself and all this stuff," Krieger recalls, his voice fragile as he whispers down the line from a hotel room in Miami, where he's on a promo tour for a new Doors DVD, Live At The Hollywood Bowl. "And so we decided to take a walk up to the top of Laurel Canyon. Like, 'Let's go up and watch the sun come up.' And when the sun came up he suddenly got this idea about the fact that when you're strange then people are strange. The whole idea just popped into his head – 'Oh, I got an idea for a song!', you know – and half an hour later we had it."
https://youtu.be/YkKRU1ajKFA
Not all such occasions ended so harmoniously though. Morrison loved Krieger, yet hated him too for having written Light My Fire. Everywhere the singer went, people slapped his back, thanking him for writing a song he'd struggled to learn the lyrics for and to get the metre right when he recorded it, seeing it as almost a throwaway. Not any more, though. And that fucked with his head, along with all the other things that would fuck with his head from hereon in.
The only way he could deal with it was to let it out, and to hell with the consequences. Arrested for public drunkenness on Sunset Strip one night during the original Strange Days sessions, Morrison begged another of LA's most famous teenage groupies, Miss P (aka Pamela Des Barres, future acquaintance of Jimmy Page and several others), to believe him when he said his rock star persona was "just a trip" and that really he was a sensitive poet. Janis Joplin didn't get that impression when Morrison suddenly forced her face into his crotch at another Hollywood party during the same period. When he tried to laugh it off, she broke a bottle of Southern Comfort over his head and called him an asshole. "I am an asshole!" he hollered after her as she stomped off, giving him the finger.
It was a relief when the initial Strange Days sessions were called to a halt while the band returned to the road to promote their big hit. Their young management team, themselves struggling to keep up with the demands brought on by their band's sudden unforeseen success, booked them gigs anywhere and everywhere. Anywhere and everywhere, that is, except for the biggest concert event of that long, purple-hazed summer: June's Monterrey Pop. It's something that still stings in the band's collective memory. "When Monterrey Pop was happening, we were stuck at the Scene Club in New York for three weeks," says Krieger offhandedly.
But to miss out on Monterrey, which took place in their own Californian back yard, and is now regarded as one of the most historic events in rock history – with a bill that included Jimi Hendrix, The Who and Ravi Shankar – that must have hurt more than a little?
"Oh yeah," he says, tremulously. " We were just… it was all new to us. If I had realised that fact I probably would have really been mad. But we didn't know Monterrey Pop was gonna become a huge, iconic concert. We had no clue."