I have found Jordan Maxwell to be the most hardcore alternative researcher. Recently I heard him in a couple of videos mentioning really outrageous things. He said that Moses asked God to show himself. God said that nobody can see His face, but he told Moses to go behind a bush where God mooned him. I laughed my ass off at that incredible claim, but then later I looked it up, and check out this fine art by Michelangelo: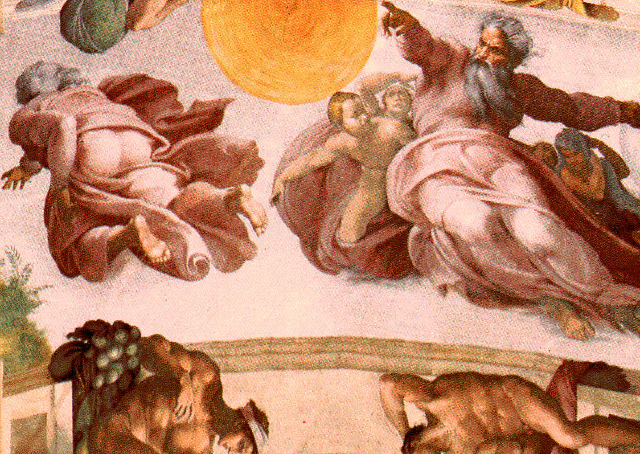 And indeed there is an article with that picture and the following explanation:
"The Jewish scholars of the third century B.C. knew Greek and Hebrew equally well (they lived back then); Jerome was no amateur; and James's scholars went back to the Hebrew for their version. I think that Michelangelo agreed with the scholars who retained the plural, for he clearly represents the butt-crack of God, with the two globes of the buttocks vividly distinct. The NRSV is just being prudish for their contemporary audience." -
https://botticellismars.wordpress.com/2 ... gods-butt/
" onclick="window.open(this.href);return false;
Here is a politically correct version (NIV) of the Bible verse:
"Then I will remove my hand and you will see my back; but my face must not be seen." - Exodus 33:23
But wait, it gets even crazier. Maxwell said that when the Jews are standing at the Wailing Wall and moving their bodies back and forth, they are having sex with the Shekhinah, the female aspect of God. Female part of God? God's butt?!
And as for Christianity, Maxwell said that Christ comes from christos which means oil, and anointed means pouring oil over the head or something like that, but it's on the penis head. So an anointed one is someone who puts oil on his penis before having (butt?) sex.
I told you his claims are outrageous. Are there any truths to them? Could be, because the article I quoted supports parts of Maxwell's story and Shekhinah is indeed a female term:
"Due to the fact that Shekhinah is gendered feminine in Hebrew, many believe that it also represents G-d's feminine attributes" -
https://www.stateofformation.org/2012/0 ... n-judaism/
" onclick="window.open(this.href);return false;