It's been so long and I don't even know where to start, haven't even put my fingers to the keyboard in months other than to answer emails so I am a bit out of practice. Saying hello to the EE forum friends has been on my ever growing to-do list, I miss the interaction here and am most grateful to Spiritwind for keeping the forum alive. I won't promise but perhaps I can journal my progress on building a little house in the Mexican country side.
As soon as the COVID nonsense was rolled out I knew that life would never go back to normal, not that I ever participated much in normal though now with some retrospect and a dose of nostalgia I have more appreciation of the freedoms we had, of the innocence that we could still maintain. These past months have been lessons of patience, fortitude, and an ever deepening necessity to listen to spirit within. The land that I celebrated owning sat unattended and abandoned, I kept waiting for the right person or small group of folks to come together to initiate a project. That never happened and I was reluctant and admittedly daunted by the thought of going it on my own. I think it was October that I was gently nudged and then nudged again to go for it. Having grown weary of seeing the masked people becoming ever more zombified I knew that my longing to be back in nature was more vital than anything else so I began what has become a challenging and satisfying journey of designing and overseeing the building of Casa Serenidad.
It was a rough start with needing to clear the overgrown brush, deciding on the location of the casita and then taking the first step breaking ground for the foundation. I started with one crew and quickly realized that my ideas weren't meshing with theirs so I let all but one man and his fifteen year old son go, it's one of those things when building, you don't want to stop once started so we kept at it, stone by stone the foundation went in.
The most important lesson I keep learning again and again is to not give up, never let myself feel discouraged because I know that Spirit is the wind at my back in ways that only become apparent in the present moment... Ismael, a quiet architect from the big project next to the vitamin shoppe would come in for coffee from time to time, at first it seemed we had little in common but over several months our conversations took a deeper keel and we became friends. He heard about my dilemmas and challenges so offered to go out to see the construction and offered me free advice, he's been my bedrock of support so that my decisions are easier to make. A few weeks ago he decided to quit his job here in San Miguel and go back to Puebla to be with his wife who he missed greatly... before leaving, being a quintessential gentleman he pulled two of his best workers off the big project and they are now working for me. I am deeply grateful.
I am building with a song and a prayer that the money I have holds out, at least now I know I will get my roof up and that is huge. Windows and doors are, of course, essential to be able to move and I am stretching it very thin indeed but feel I will be able to close in the house... bathtub and other amenities might have to wait. We will see.
Here are some photos of the work in progress, it's a real pleasure to share and as they say in Mexico "Mi Casa es Su Casa"... my doors (when I have some) are always open for visitors and I keep the home hearth warm.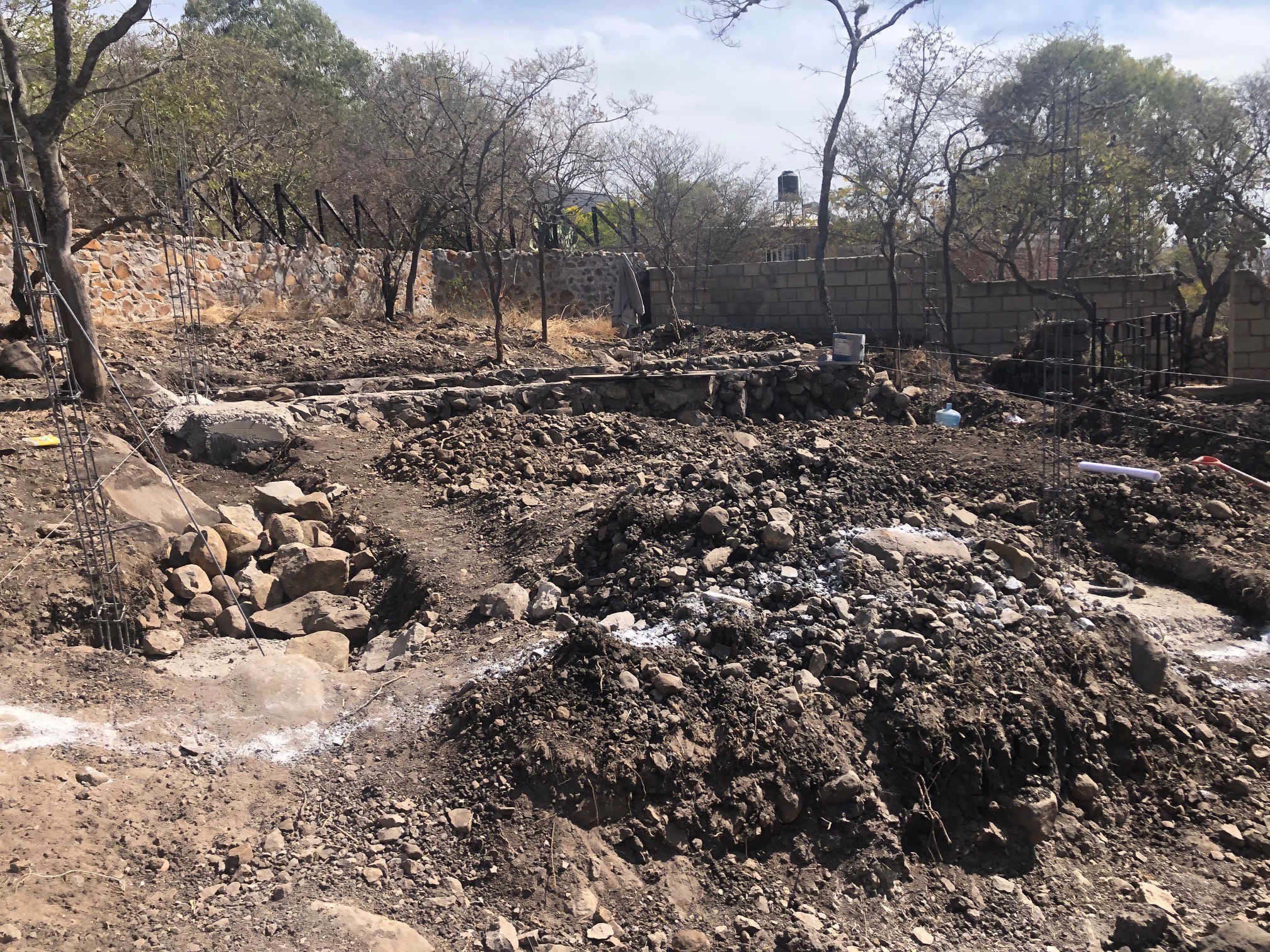 Breaking ground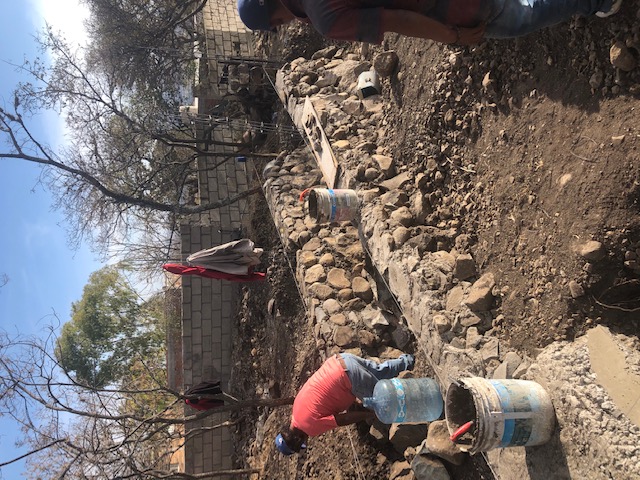 Manuel laying stone, a good guy who talked non-stop and drove me crazy so I had to let him go... we parted with laughter so all good.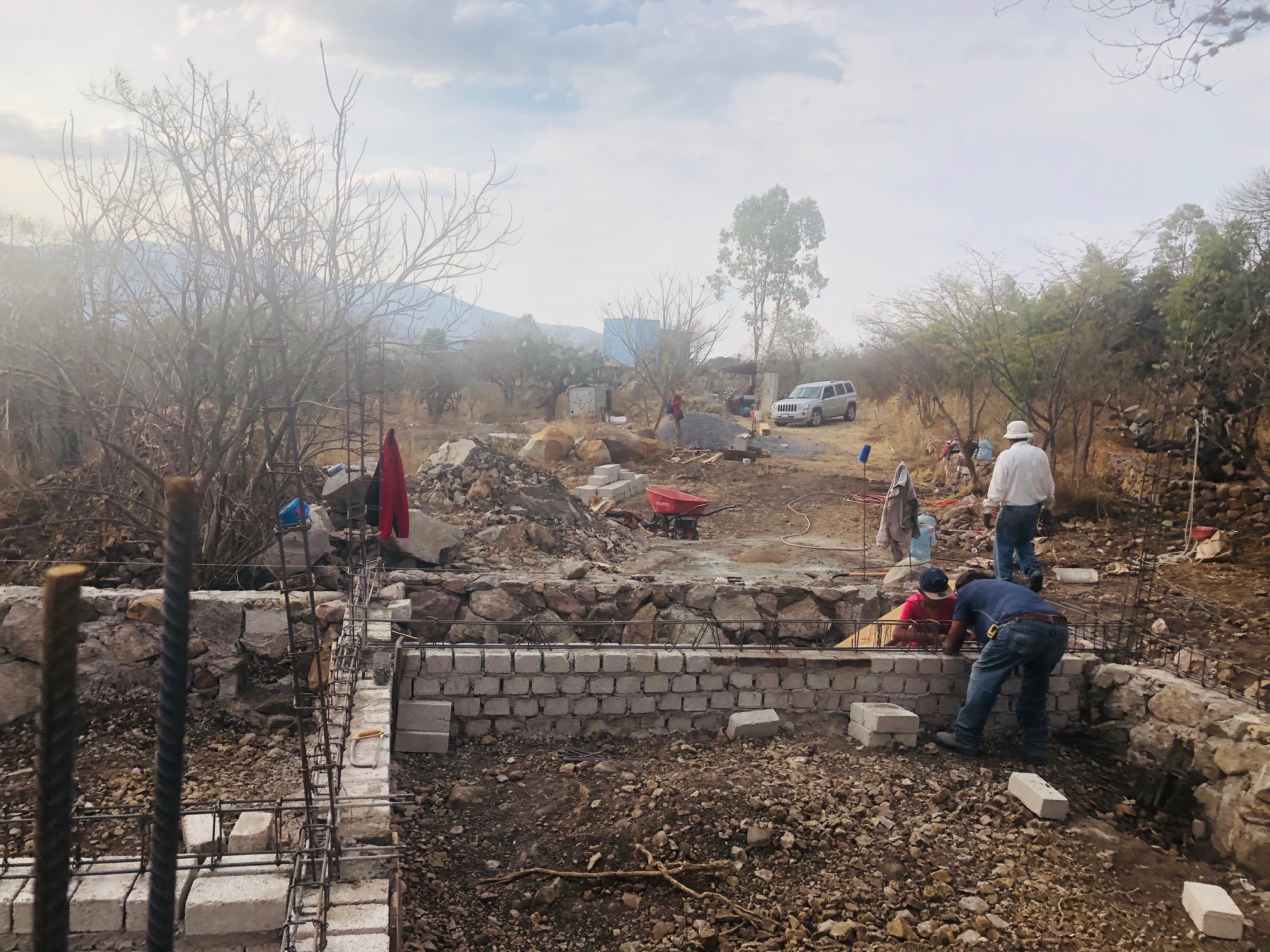 Foundation work, the most trying part as weeks went by and there seemed little to show for it. That said we laid the electrical and plumbing lines, got the cistern covered and the bio-digestor septic system in the ground and plumbed. About two weeks out from turning the power on and using the plumbing.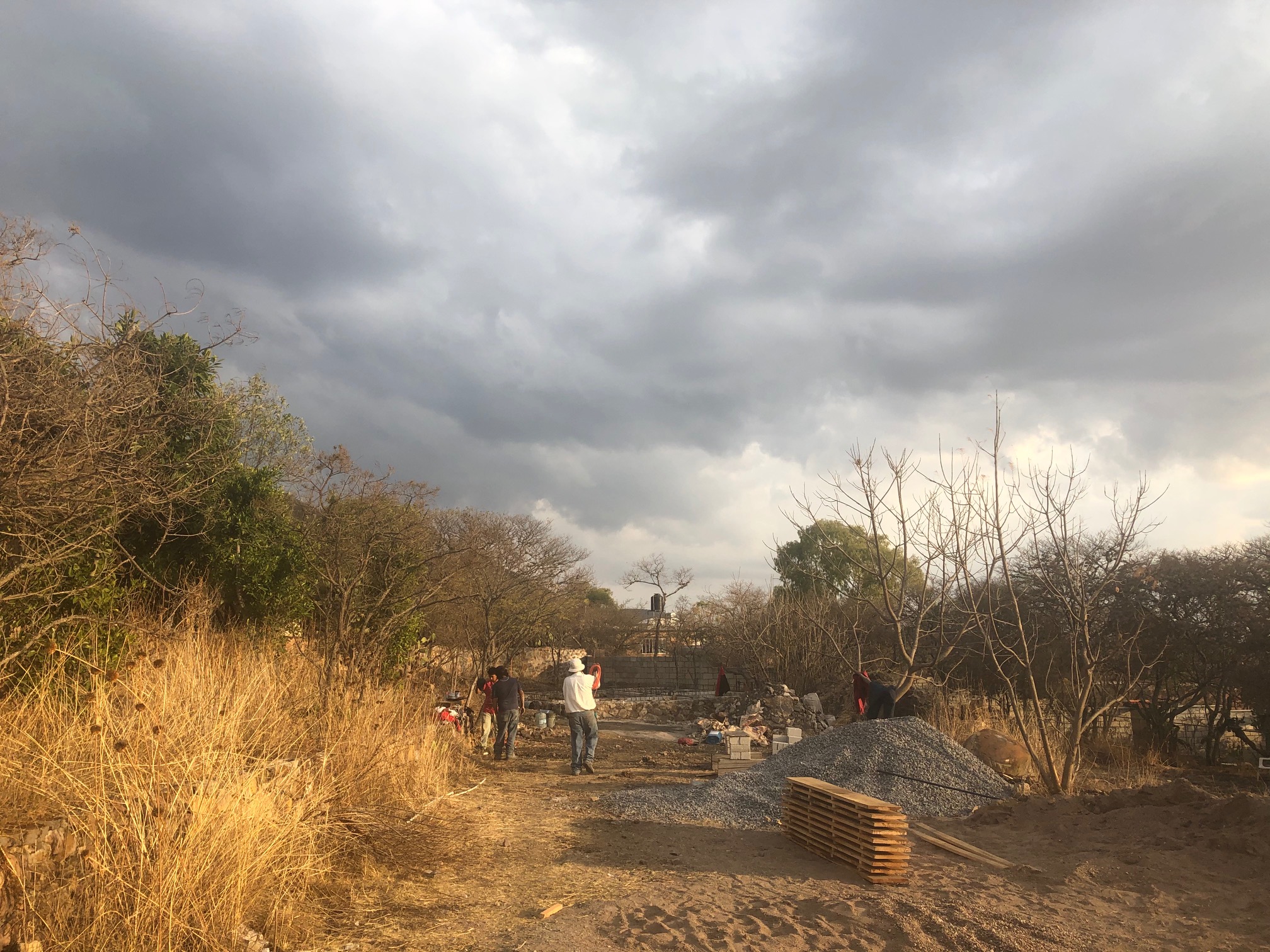 The light is always magical especially when some storm clouds roll through
.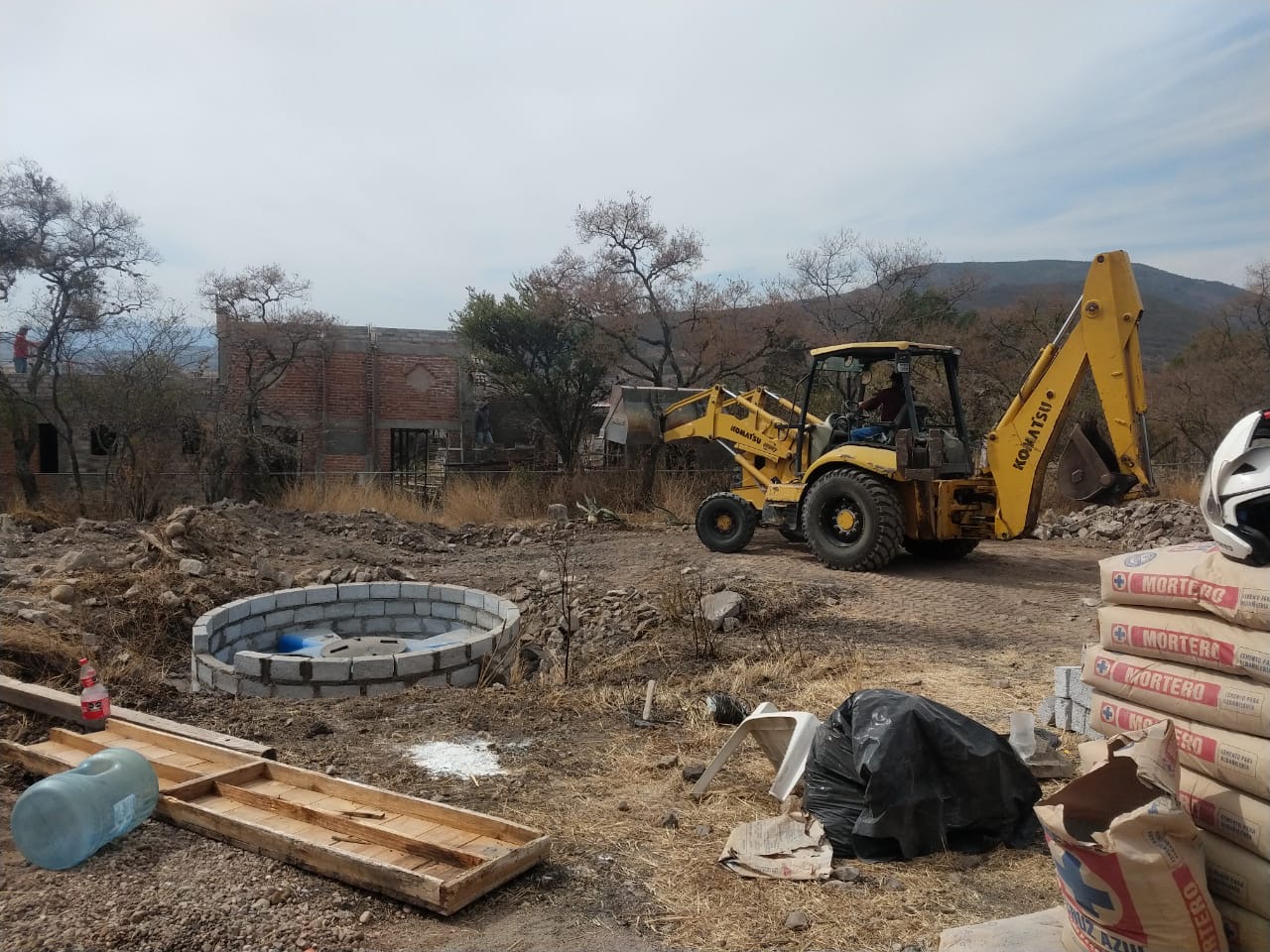 Cistern and backhoe moving the endless rock on the property.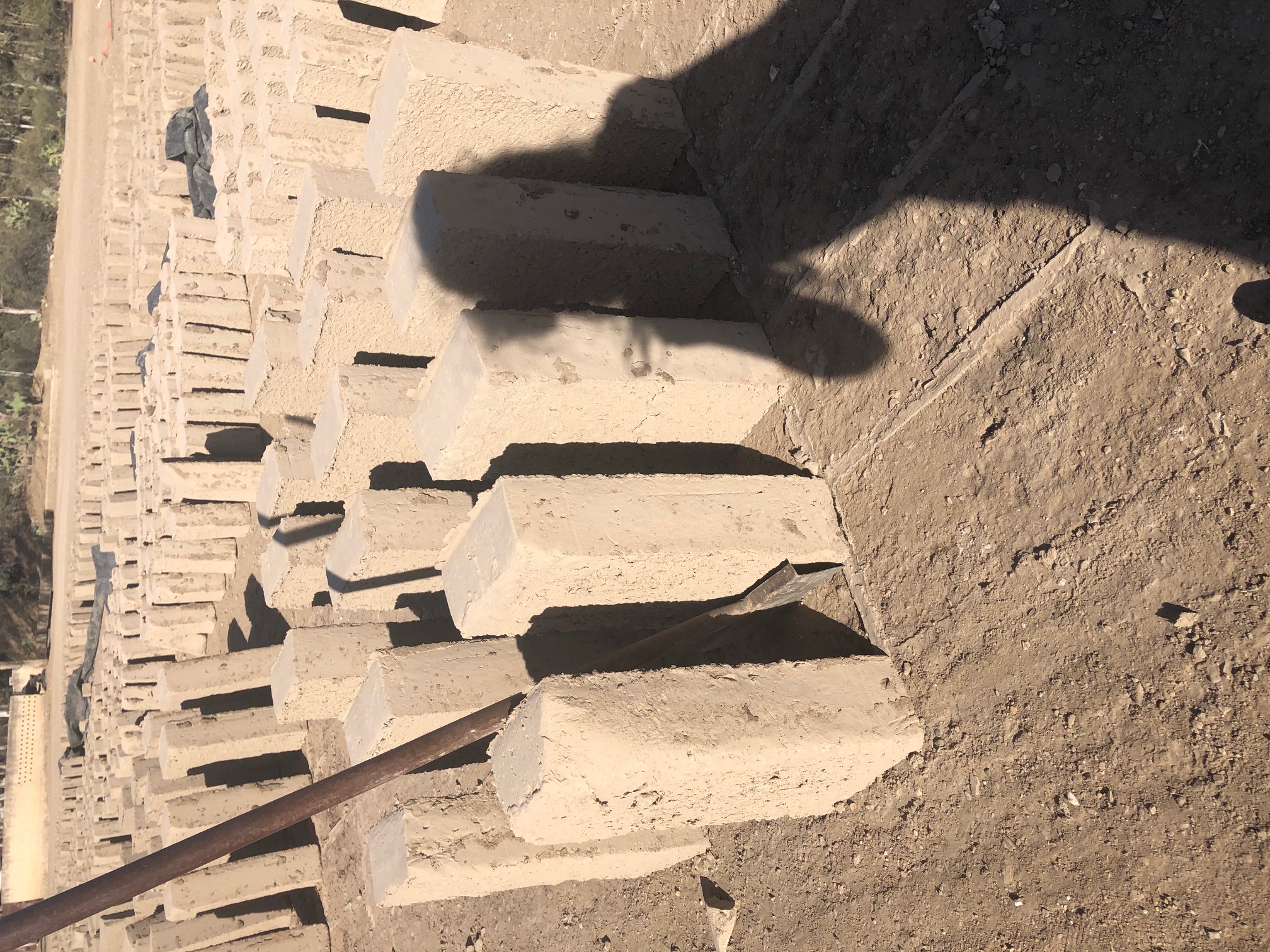 Adobes baking in the winter sun, an exciting day for me, found some very good adobe and placed my order.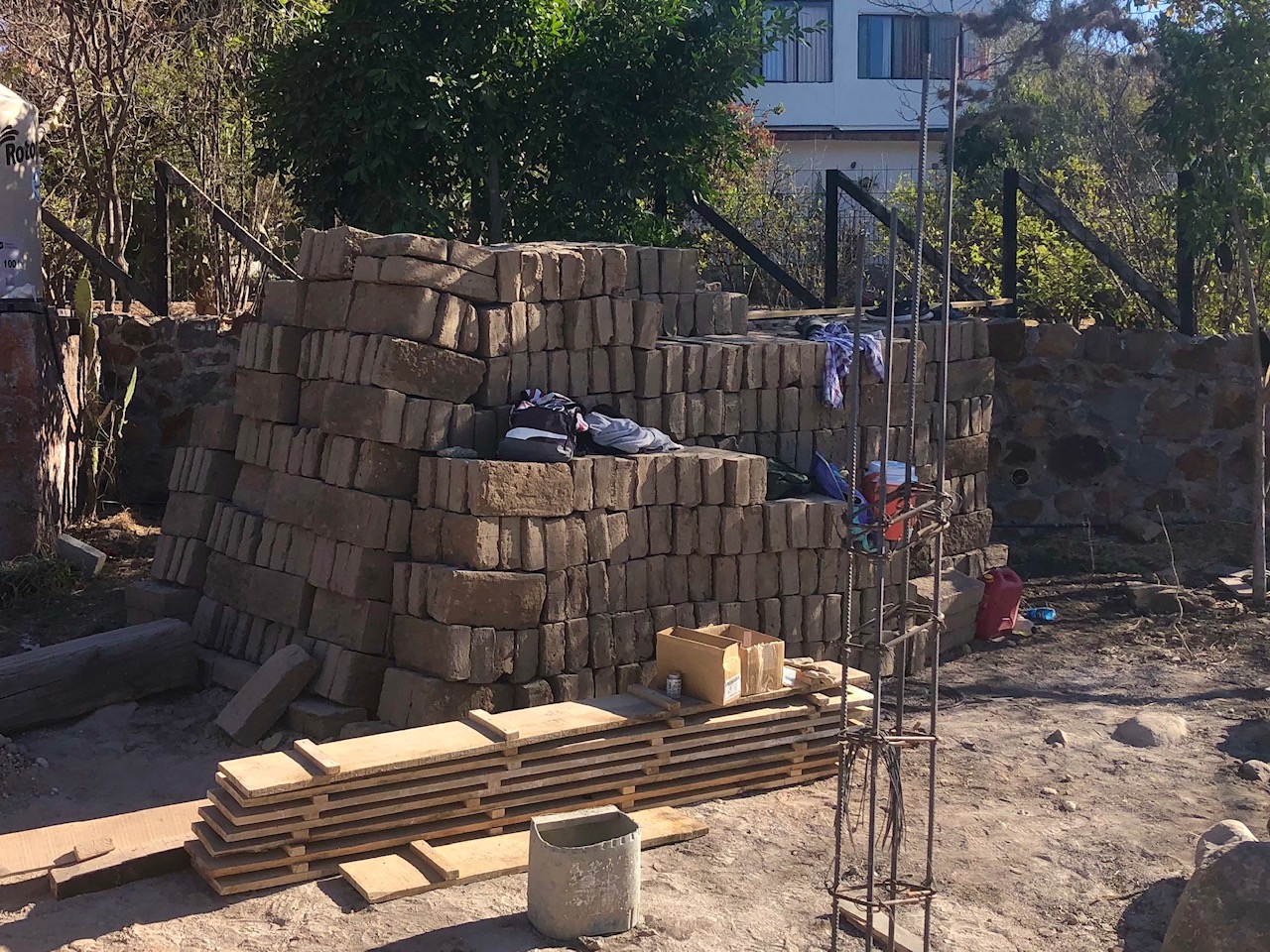 Adobe delivered!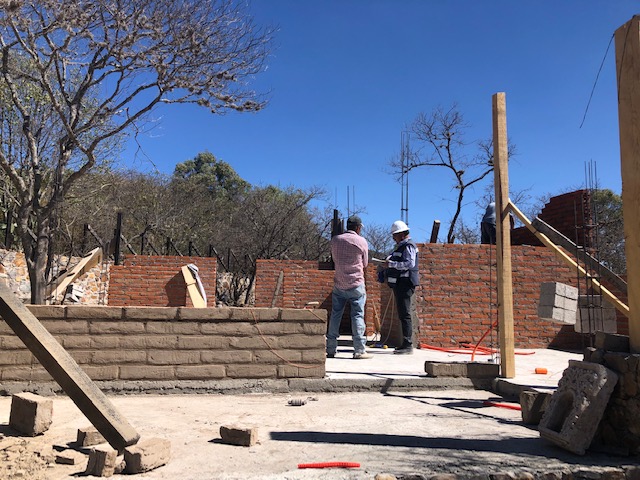 Week before last with Eric the 'maestro' and Ismael doing a check in... walls going up and seeing my design take form.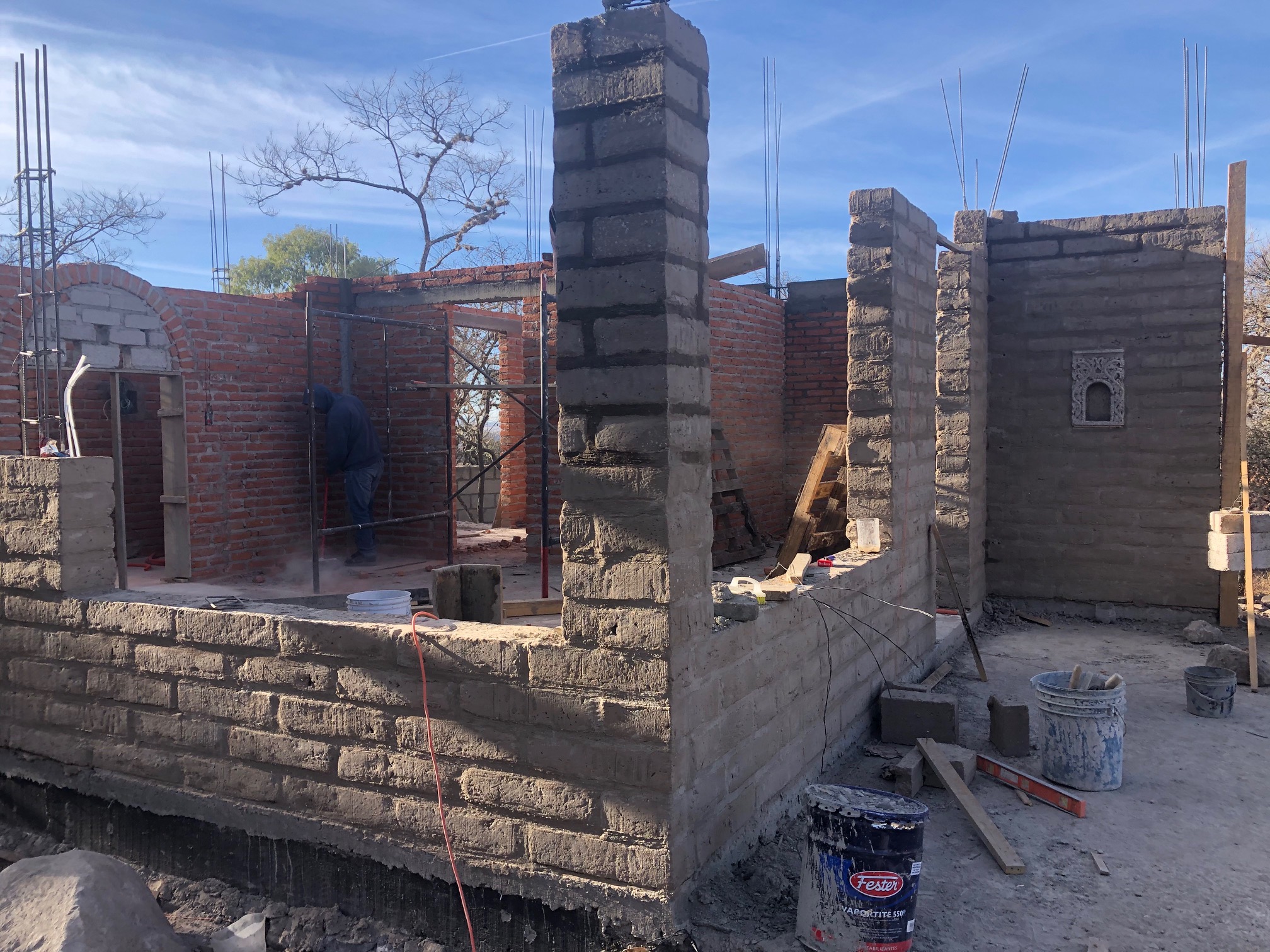 Front porch of the casita and adobe walls.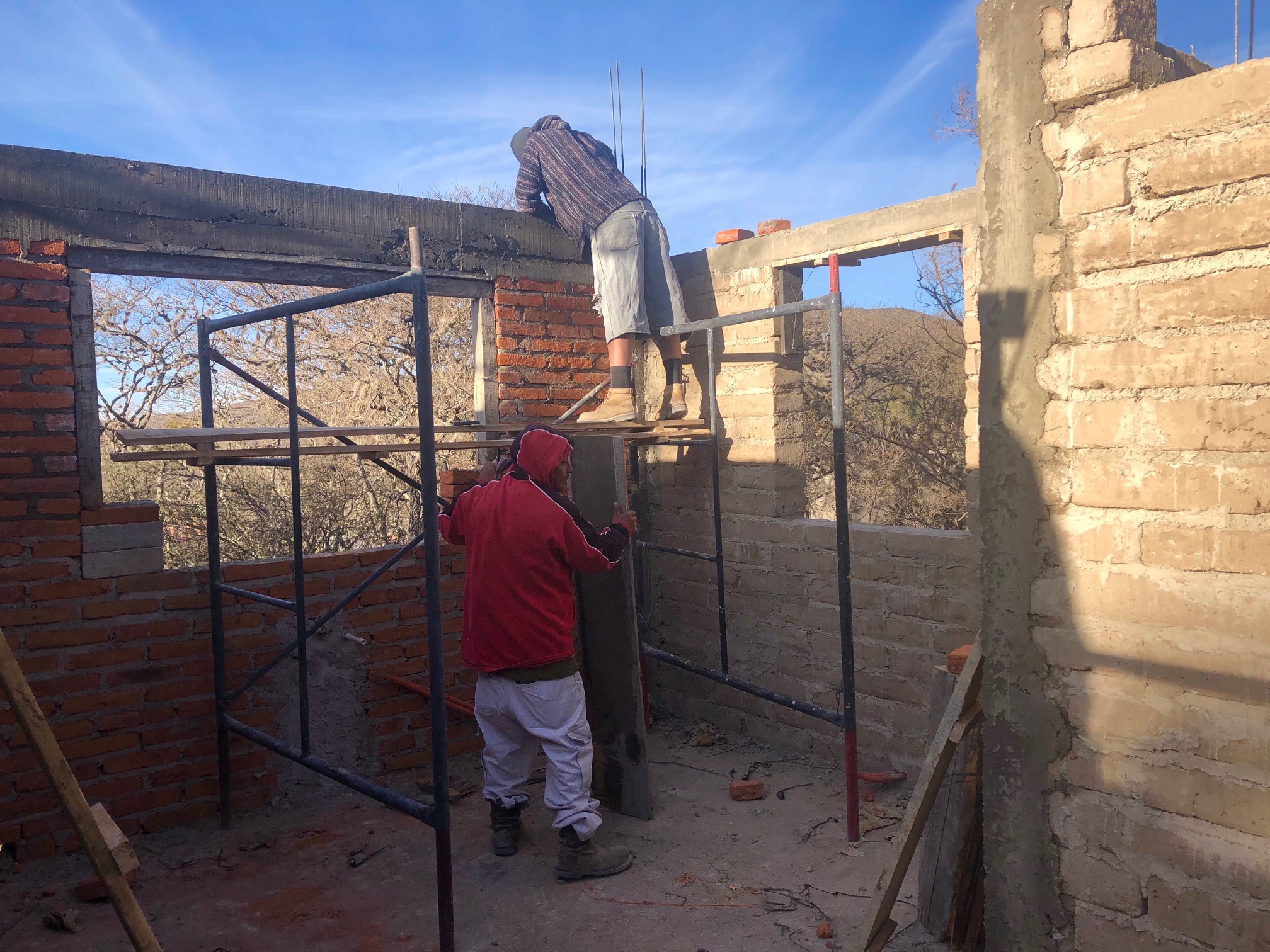 Kitchen with views, it's cools seeing the windows framed and imagining cooking in such a beautiful setting.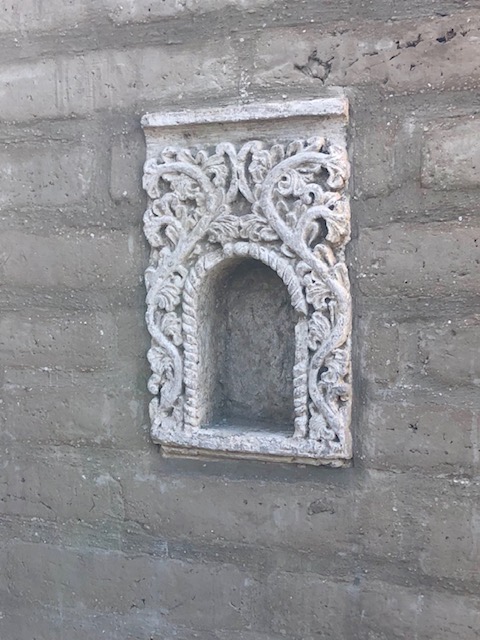 Carved stone niche I found while antiquing with my daughter while looking for a wood fire stove and a cast iron bathtub... the quest continues.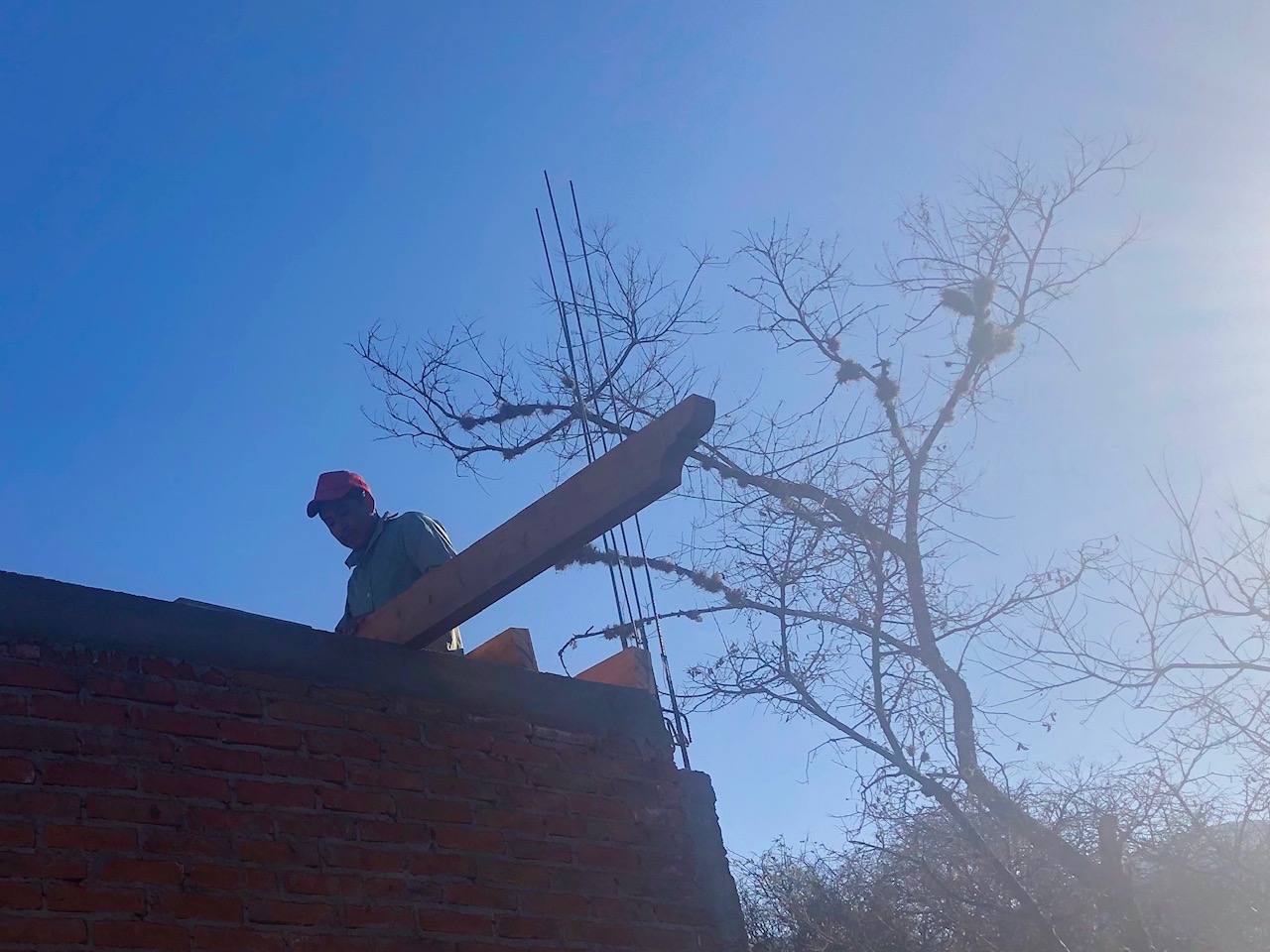 Eric placing the extended beam for the loft bedroom that will support a balcony.
Loft beams are almost in so I climbed up and snapped a shot of the view from the bedroom, it's getting exciting now.