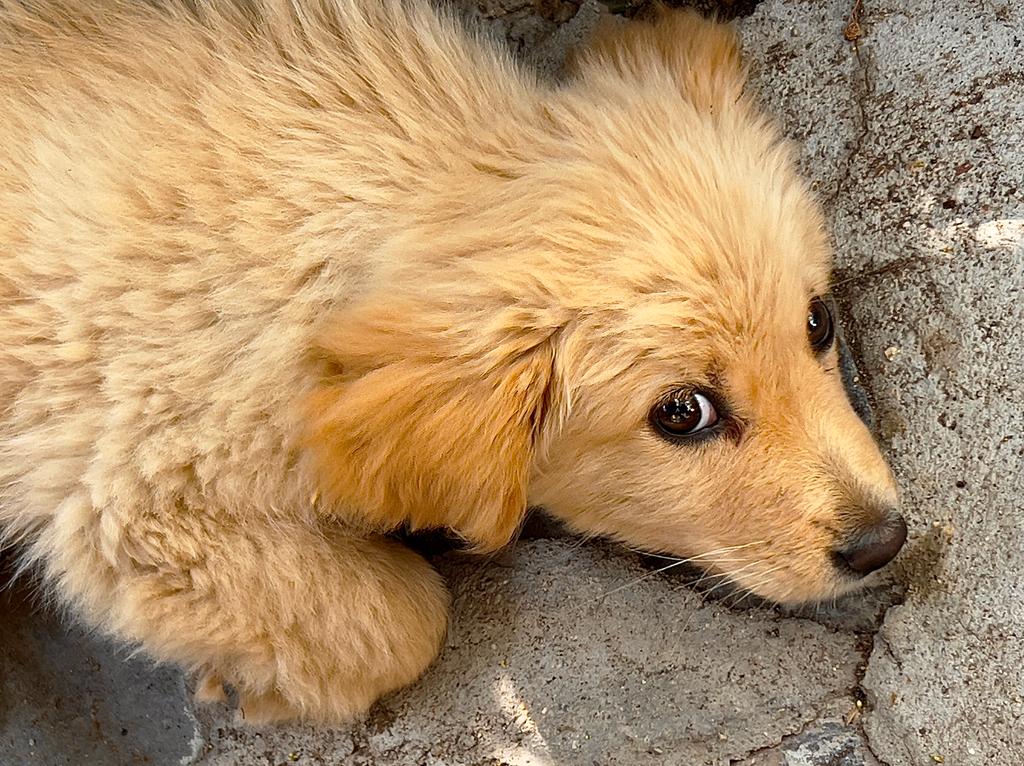 It's been two weeks since I found this adorable puppy abandoned just off a busy highway. He was skinny and padding around so I asked a few shop owners whose dog he was, they informed me that he and his brother and been dropped out of a car a few days back—someone had already taken his litter mate. He sat at my feet looking up at me and every reason I had for not wanting a dog vanished into the ether, I picked him up and said; "What an angel you are". He is, and that quickly became his name.
He's an obvious mix but it's pretty clear he has a lot of Golden Retriever in his blood. Here's an online description and I will state unequivocally that he is the most incredible puppy ever! The cats are nonplussed by his presence and the black cat, Dude is already playing with him in a cat like way... he taunts Ángel then runs when he approaches, then stops and waits for the next round of tag.
"The Golden Retriever, an exuberant Scottish gundog of great beauty, stands among America's most popular dog breeds. They are serious workers at hunting and field work, as guides for the blind, and in search-and-rescue, enjoy obedience and other competitive events, and have an endearing love of life when not at work. The Golden Retriever is a sturdy, muscular dog of medium size, famous for the dense, lustrous coat of gold that gives the breed its name. The broad head, with its friendly and intelligent eyes, short ears, and straight muzzle, is a breed hallmark. In motion, Goldens move with a smooth, powerful gait, and the feathery tail is carried, as breed fanciers say, with a 'merry action.' The most complete records of the development of the Golden Retriever are included in the record books that were kept from 1835 until about 1890 by the gamekeepers at the Guisachan (pronounced Gooeesicun) estate of Lord Tweedmouth at Inverness-Shire, Scotland. These records were released to public notice in Country Life in 1952, when Lord Tweedmouth's great-nephew, the sixth Earl of Ilchester, historian and sportsman, published material that had been left by his ancestor. They provided factual confirmation to the stories that had been handed down through generations. Goldens are outgoing, trustworthy, and eager-to-please family dogs, and relatively easy to train. They take a joyous and playful approach to life and maintain this puppyish behavior into adulthood. These energetic, powerful gundogs enjoy outdoor play. For a breed built to retrieve waterfowl for hours on end, swimming and fetching are natural pastimes."
Being a curios puppy, he's already gotten himself into serious trouble. He was playful and rambunctious one day and the next he was lethargic and not eating. I thought that perhaps he had eaten too much so waited a day. The next day the same thing, no fever, no vomiting, no diarrhea which seemed to rule out the normal puppy diseases... on the third day I took him to a vet down the street who thought it was impacted feces and gave him a syrup to help him poop. All he did was throw up and was becoming dehydrated even though I was giving him electrolyte water in a syringe. So Saturday morning I went to the vet I usually use, Octavio El Capitán who I trust as he's an old time vet with extensive experience. In under 10 seconds he said he had a bone stuck in his intestines, took x-rays which confirmed it. The only option was surgery even though I was told it was risky. Four hours later I got a call to pick him up, he made it through the surgery and now it was wait and see if sepsis set in. It turned out he had eaten the end of a dried out corn cob which had lodged in his lower intestine... honestly it was big enough that I wondered how he had ever swallowed it. Thankfully we are four days out and he appears to be fully recovered, eating and romping in between naps.
Ángel is the darling of the shop and neighborhood, everyone falls in love with him. I am happy to have this canine companion who naturally wants to please so he sits when I tell him to and we are now working on stay... he even pees outside without having been trained,I couldn't have conjured up a better dog.
Life has a way of presenting surprising gifts.