https://www.rt.com/news/407378-arctic-m ... -research/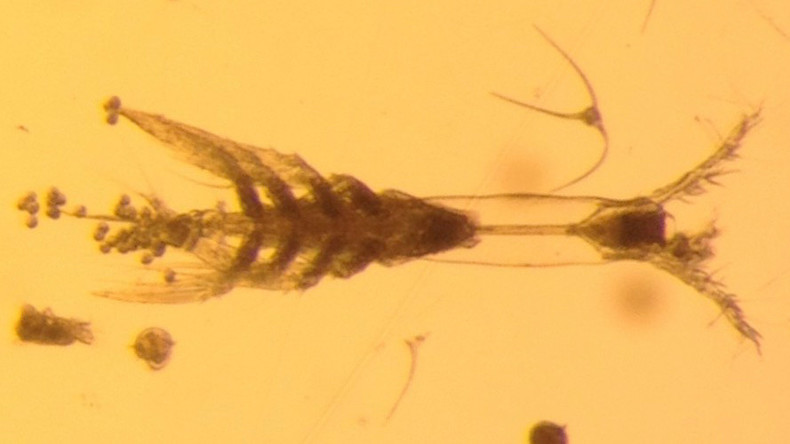 A new species that has been dubbed a hidden 'monster' of the plankton world has been found lurking under Arctic sea ice in Canada.
The fortuitous discovery of the eight-legged creature – which freakishly only has one eye, no mouth and two hairy antennae – was made by a University of Manitoba student in 2014.
READ MORE:
Jellyfish invasions caused by human construction at sea – study
Aurelie Delaforge was working at an ice camp in the wilds of Cambridge Bay, Nunavut, to study plankton blooms when the zooplankton emerged in ocean ice samples. With the bizarre creature turning up in ice on a number of occasions, Delaforge thought it likely that the species was local to the area.
Delaforge sent a message to Department of Fisheries and Oceans researcher Wojciech Walkusz, informing him:
"I have this alien."
Details of the new species of 'monstrilloid copepod' have now been published in the peer-reviewed ZooKeys journal. The creature joins six similar polar latitude 'monster' plankton species in science ledgers.
However, the creature has some anatomical differences to other tiny plankton. For example, it has a reduced fifth leg armed with sensory setae bristles.
http://earthempaths.net/wp/wp-content/u ... /giphy.mp4
The minute monster is not quite on the same level of horror as the fictional parasitic creature in the movie 'The Thing'. But it is the first of its kind to be documented around Canada, leading researchers to ponder what other secrets are still hidden under Arctic ice.
"When we study the Arctic, there are still things we don't know. This is a good example," Delaforge told UM Today News.
"I find this pretty cool. It's not an everyday thing, discovering new species and it feels incredible. I wasn't looking to find a new species for my PhD, but for me personally, who loves taxonomy, I think this is really important because it brings new information on the biodiversity present in the Arctic," she said.