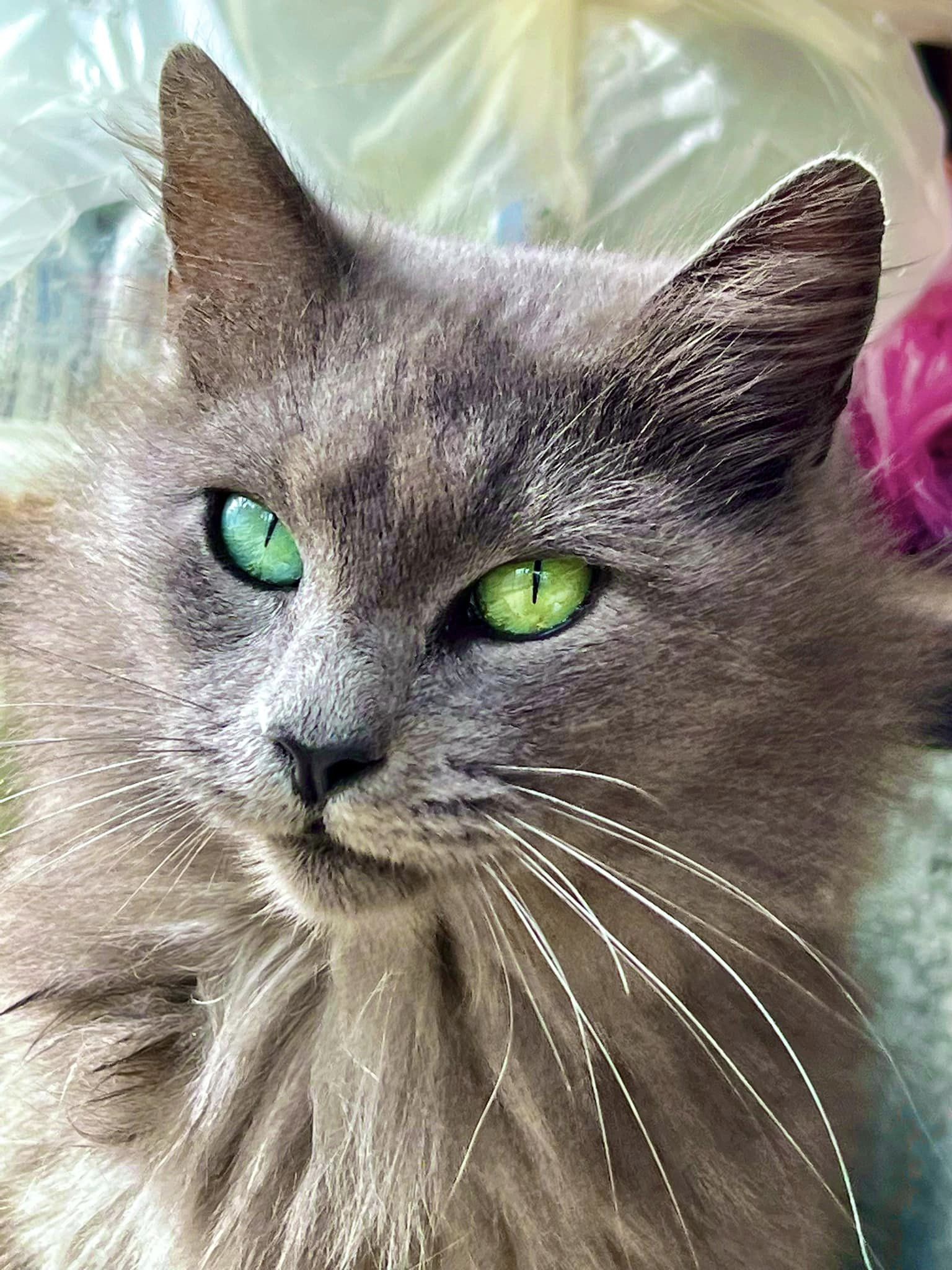 This is a difficult post to write. Misty was with us at El Árbol for such a short time and yet it feels like she was always here. She went missing two Saturdays ago and was gone for six days when she miraculously returned, scraggly and skinny but she seemed okay. During the past ten days or so she was drinking water and eating small amounts of food though she seemed somewhat listless and very quiet. We thought that she was working out the trauma of finding her why back and would recover just fine. Last Friday she started breathing heavy so I took her to the local vet, she had a fever and a tooth abbesses so she was given antibiotics and a med for the pain she seemed to be in. . . For a day or so she seemed to be improving until yesterday when I arrived at the shop I could tell she was suffering and her breathing was more labored. Since I had an appointment with the vet for Angel I took her instead.
When I picked her up to put her in the car she was very uncomfortable, her pain had obviously increased. At the vet's we were taken in right away and he examined her which put her in more pain, I was told that she had swollen masses in her abdomen. I held her trying to calm her down as her tail wagged wildly back and forth and her breathing became more labored. He came in with an injection to bring down the pain, I could tell in his eyes there wasn't much hope and I asked over and over if there was more he could do. His answer was negative.
About five minutes after the injection while I cradled her in my arms waiting for the pain to subside, she went limp and I knew she was on her way out. She had had a heart attack and was gone in under a minute. A shock tends to set in when confronting such a beautiful creature leave the body—my inner self was weeping and yet I didn't let the tears rise.
She is now buried on the property at my home. Digging through the hard soil and laying her to rest kept me moving forward even though I felt numb inside. It wasn't until I had to tell Michael that real tears welled up and ran down my cheeks, mutual sorrow needs to be expressed. We chatted back and forth, consoling each other as only good friends can do. At one point he wrote:
"I'm sure she's being given the grand tour by Midnight…"
as Midnight had gone on ahead of her a month ago. That made me smile in spite of the sorrow.
During last night's restless sleep I would see Misty in an astral form, it was her but she glimmered in an ethereal light, roaming around in a mountainous terrain, climbing over rocks and wandering around some forest trees. A visitation and a reminder that spirit lives on.