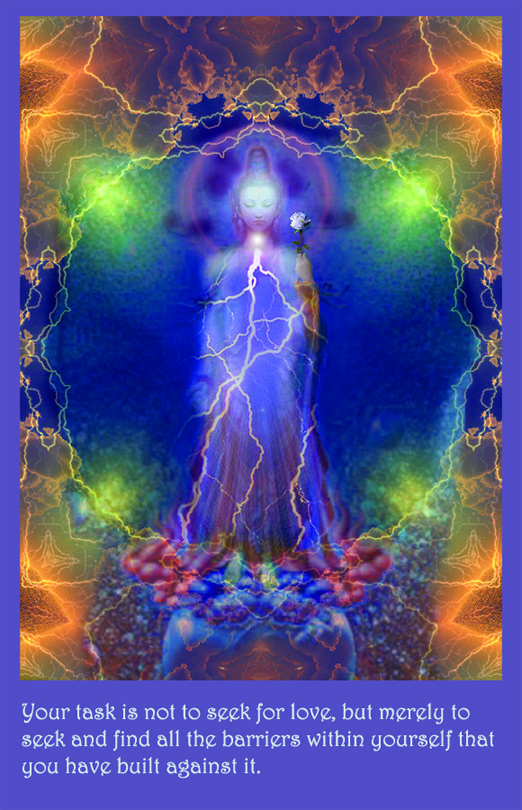 She wakes most mornings in the darkness, before the sun's first light. Eyes flutter open from some deep place, that leaves but a trace, shimmering stardust, there is a trail. This she follows …
I have grown tired of the babble and the click-click sound that words on the keyboard make. No rejecting or accepting, simply acknowledging the differences in the sound of words. Some words flow like water in a brook and others rush like torrents over cliffs, then there are those that are separated thoughts, ones that the matrix-mind insists upon are right.
I profess a fondness for heart, for the dreamer and for the deep ones, whether it be the terrible beauty of Truth or the outrush of something deeply intuited and brought to light. Pure, authentic, the Truth that is you.
Thought that has a depth, ah! … she breaths into a contenting space, She can expand here. She has been watching, observing and inside she grows more empty more accepting, there is more space.

She has entered a deep inner hush, moments of stillness before the coming of a storm. She stands still inside, expanding, feeling deeper … like a tree the roots search down and the leaves newly bud, rustling in a gentle wind.
So quiet in the deep dark place she reaches, yet there is a sound that is no sound, something so gentle, so tender, so immense in its tiny movement. The first note of a new song, a tiny seed sprouts.
Tenderness, that single word so overlooked, so missed, so crushed in the rush to prove, to confine, to contain, to speak, to be heard. I am sitting with it now more fully embraced. In Be-t-We-en the openings that are left by this tender spirit, this single gentle touch, something grows inside.
She feels the uplift of her lips, a little bubble of joy that rises from her heart's sacred chamber, the place where so few dare to tread. Her words she uses them now to dance with this single tiny sphere of effervescence. She giggles silently, a child she holds opens its eyes and unspoken they know.
Thunder in the silence, electricity within, a pure white rose grows, fire stone, radiant light of the Compassionate One that resides within.
Words used only to convey that which is Known.

She stops here now, to honor this tender quiet place of thunder in the silence.

Smiles again.
~~~ christine
Expressing gratitude for all of those who have gathered here and a deep thanks to the the friends who have deepened the field of Beauty.