I started writing this about a week ago and would appreciate comments, intuitions and suggestions because I don't feel it is yet complete.
She woke early in the morning not knowing where she was, in an empty space of pure nothingness. She knows that in the quietude new voices can be heard. Love is the all abiding field, she felt a new thought stir. It is this she wishes to share. For if we say in Truth, Love is the All, there is the answer and the way on how we resolve such deeply ingrained differences that have propelled humanity into perpetual hatred and war. She jumps into deep water with both feet.
As our many readers know we have been diligently unwrapping and revealing a revisionist view of the history of WWI and II by taking a much deeper look into the Third Reich and who was Adolf Hitler. These subjects are not easy and have proven to provoke some derision, discomfort and division. I won't want veer off topic however for this isn't all bad if it causes us to look more closely at something we once believed as a truth.
Today I speak from my inner perspectives which came with a sudden insight a few mornings ago along with a great accumulation of data from many years of research. My interests along these lines includes ancient cultures, genealogy, root races, myths and the big question: "Who are we?"
Let's start with the reality that most of the world's population is of mixed races and it is possible to extrapolate that the "controlling cabal" has desired this. Simply by taking into account the mass genocides and the current mass immigration due to wars that are manufactured for purposes that out strip most people's ability to process. Money at the root? Or a much deeper agenda? Or is it possible that we human beings simply can't comprehend the need of an
entity
that exists purely to destroy?
Probably only the most remote tribes maintain a lineage of pure DNA. In DNA testing we are shown somewhat surprisingly that the many of us carry genetic markers that link us not only to our parents and grandparents but to a multi cultural lineage often including what they identify as the Semitic people, or erroneously concluded is uniquely that of the Jewish people.
Anti-Semitic is a term that is purposely used falsely so before we go further with what I will share please take time to thoroughly digest this. Anti-Semitic has been used as a slur for those who in any manner speak against or offer a countering truth about the Jewish
(race, culture, or religion).
There is much debate and twisting of words on the question as to whether Judaism is a religious conversion, a culture or based on ethnicity.
If we look up the original usage of the word
Semitic
it was to describe a people with a common language and that includes Jews, Muslims and Christians.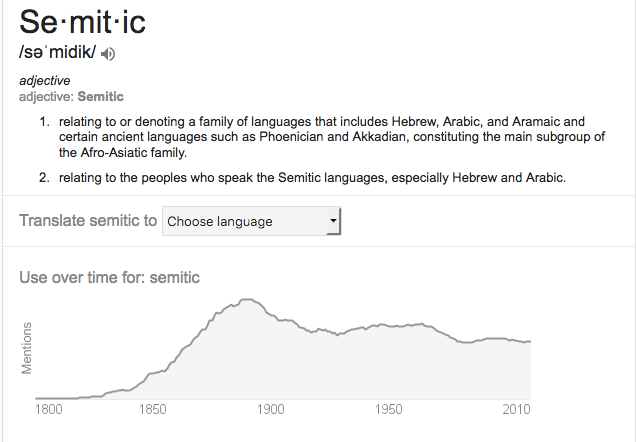 For the reader that wants to uncover a bit more how this word came into usage and the confusion that is created around it's usage please read this article.
Who are the Semites
What I see tied together through common language, geographical area and culture with the Semitic peoples are three religions, referred to as the
Abrahamic Religions
for they have the common link to Abraham of the old testament and the vengeful god, Jehovah. I am not referring to individual people but to the over wrought and prevailing religious belief systems that few will ever question to its roots.
My attempt here is to reveal something more nefarious and hidden. Perhaps together we can discover how and why this nefarious element of hatred was embedded into the DNA of human beings. I am not pretending to have the answer though I feel perhaps we are close to pulling aside the curtain of purposeful confusion and deception to find a more fulfilling truth.
As one excavates this material you will read that the Jewish people were expulsed from many countries in Europe. I recently came across the below information which I found at first disturbing and secondarily I felt that to expose it would require responsibility for many are looking for reasons to hate Jews using this to point the finger of blame at the Jewish people. I would ask that the reader continue to hold in their thoughts that my attempt here is to differentiate a people from a "embedded ideology" that will forever keep us at war until we see beneath labels, propaganda and our own prejudices.
What I sense here is a timeline that is showing us where to look, how to look and asks us to deeply question why this was done.
The below is from a book that was written to demonstrate to the Jewish people just how victimized they are. From my perspective this fact is a point that bears a through penetration, why were the Jewish people expulsed from country after country, year after year? Clearly the chapter of WWII is simply a recent manifestation of a pattern that has existed for at least 1900 years. Yet for most people WWII represents the attempted usurpation of evil via Adolf Hitler and the horrors of the Jewish Holocaust. Most people simply won't take the time to delve deeper into the material, we have allowed this lie to stand. For this reason I continue my own research.
What are we missing?
Lets not forget that people the world over, from every race on every continent have been persecuted and are the victims of mass genocide. Yet to my knowledge no other culture is involved in such a prevalent and heavy handed use of world wide propaganda. It is a well known fact that "they" basically control the media and the entertainment industry. Nor is any other culture in positions of political power, both covertly and overtly, which we must see translates to the mechanisms of war. "They" includes three dominant world religions: Judaism, Islam and Christianity which share the same root. Perhaps a poisonous root.
"Jewish Persecution | Timeline of Judaism | History of Anti-Semitism"
Lesser Known Highlights of Jewish International 
Relations In The Common Era (an Abbreviated sampling)

DATE PLACE EVENT:

250 C.E. Carthage Expulsion

224 C.E. Italy Forced Conversion

325 C.E. Jerusalem Expulsion

351 C.E Persia Book Burning

357 C.E. Italy Property Confiscation

379 C.E. Milan Synagogue Burning

415 C.E. Alexandria Expulsion

418 C.E. Minorca Forced Conversion

469 C.E. Ipahan Holocaust

489 C.E. Antioch Synagogue Burning

506 C.E. Daphne Synagogue Burning

519 C.E. Ravenna Synagogue Burning

554 C.E. Diocese of Clement (France) Expulsion

561 C.E. Diocese of Uzes (France) Expulsion

582 C.E Merovingia Forced Conversion

612 C.E. Visigoth Spain Expulsion

628 C.E. Byzantium Forced Conversion

629 C.E. Merovingia Forced Conversion

633 C.E. Toledo Forced Conversion

638 C.E. Toledo Stake Burnings

642 C.E. Visigothic Empire Expulsion

653 C.E. Toledo Expulsion

681 C.E. Spain Forced Conversion
6
93 C.E. Toledo Jews Enslaved

722 C.E. Byzantium Judaism Outlawed

855 C.E. Italy Expulsion

876 C.E. Sens Expulsion

897 C.E. Narbonne Land Confiscation

945 C.E. Venice Ban on Sea Travel

1009 C.E. Orleans Massacre
1012 C.E. Rouen, Limoges & Rome Massacre

1012 C.E. Mayence Expulsion

1021 C.E. Rome Jews Burned Alive

1063 C.E. Spain Massacre

1095 C.E. Lorraine Massacre

1096 C.E. Northern France & Germany 1/3 of Jewish Population Massacred

1096 C.E. Hungary Massacre
1096 C.E. Ralisbon Massacre
1099 C.E. Jerusalem Jews Burned Alive

1100 C.E. Kiev Pogrom
1140 C.E. Germany Massacres

1146 C.E. Rhine Valley Massacre
1147 C.E. Wurzburg Massacre

1147 C.E. Belitz (Germany) Jews Burned Alive

1147 C.E. Carenton, Ramenu & Sully (France) Massacres

1171 C.E. Blois Stake Burnings

1181 C.E. France Expulsion

1181 C.E. England Property Confiscation

1188 C.E. London & York Mob Attacks

1190 C.E. Norfolk Jews Burned Alive

1191 C.E. Bray (France) Jews Burned Alive

1195 C.E. France Property Confiscation

1209 C.E. Beziers Massacre

1212 C.E. Spain Rioting and blood bath against the Jews of Toledo.

1215 C.E. Rome Lateran Council of Rome decrees that Jews must wear the "badge of shame" in all Christian countries. Jews are denied all public sector employment, and are burdened with extra taxes.

1215 C.E. Toulouse (France) Mass Arrests

1218 C.E. England Jews Forced to Wear Badges

1231 C.E. Rome Inquisition Established
1236 C.E. France Forced Conversion/Massacre

1239 C.E. London Massacre & Property Confiscation

1240 C.E. Austria Property confiscation. Jews either imprisoned, converted, expelled, or burned.

1240 C.E. France Talmud Confiscated

1240 C.E. England Book Burning

1240 C.E. Spain Forced Conversion

1242 C.E. Paris Talmud Burned
1244 C.E. Oxford Mob Attacks

1255 C.E. England Blood libel in Lincoln results in the burning / torture of many Jews & public hangings.

1261 C.E. Canterbury Mob Attacks

1262 C.E. London Mob Attacks

1264 C.E. London Mob Attacks

1264 C.E. Germany Council of Vienna declares that all Jews must wear a "pointed dunce cap." Thousands murdered.

1267 C.E. Vienna Jews Forced to Wear Horned Hats

1270 C.E. Weissenberg, Magdeburg, Arnstadt, Coblenz, Singzig, and Erfurt Jews Burned Alive

1270 C.E. England The libel of the "counterfeit coins" - all Jewish men, women and children in England imprisoned. Hundreds are hung.

1276 C.E. Bavaria Expulsion

1278 C.E. Genoa (Spain) Mob Attacks

1279 C.E. Hungary & Poland The Council of Offon denies Jews the right to all civic positions. The Jews of Hungary & Poland are forced to wear the "red badge of shame."

1283 C.E. Mayence & Bacharach Mob Attacks

1285 C.E. Munich Jews Burned Alive

1290 C.E. England King Edward I issues an edict banishing all Jews from England. Many drowned.

1291 C.E. France The Jewish refugees from England are promptly expelled from France.

1292 C.E. Italy Forced conversions & expulsion of the Italian Jewish community.

1298 C.E. Germany The libel of the "Desecrated Host" is perpetrated against the Jews of Germany. Approximately 150 Jewish communities undergo forced conversion.

1298 C.E. Franconia, Bavaria & Austria Reindfel's Decree is propagated against the Jews of Franconia and Bavaria. Riots against these Jewish communities, as well as those in Austria, result in the massacre of 100,000 Jews over a six-month period.

1306 C.E. France Expulsion

1308 C.E. Strasbourg Jews Burned Alive

1320 C.E. Toulouse & Perpigon 120 Communities Massacred & Talmud Burned

1321 C.E. Teruel Public Executions

1328 C.E. Estella 5,000 Jews Slaughtered

1348 C.E. France & Spain Jews Burned Alive

1348 C.E. Switzerland Expulsion

1349 C.E. Worms, Strasbourg, Oppenheim, Mayence, Erfurt, Bavaria & Swabia Jews Burned Alive

1349 C.E. Heilbronn (Germany) Expulsion

1349 C.E. Hungary Expulsion

1354 C.E. Castile (Spain) 12,000 Jews Slaughtered

1368 C.E. Toledo 8,000 Jews Slaughtered

1370 C.E. Majorca., Penignon & Barcelona Mob Attack

1377 C.E. Huesca (Spain) Jews Burned Alive

1380 C.E. Paris Mob Attack

1384 C.E. Nordlingen Mass Murder

1388 C.E. Strasbourg Expulsion

1389 C.E. Prague Mass Slaughter & Book Burning

1391 C.E. Castille, Toledo, Madrid, Seville, Cordova, Cuenca & Barcelona Forced Conversions & Mass Murder

1394 C.E. Germany Expulsion

1394 C.E. France Expulsion

1399 C.E. Posen (Poland) Jews Burned Alive

1400 C.E. Prague Stake Burnings

1407 C.E. Cracow Mob Attack

1415 C.E. Rome Talmud Confiscated

1422 C.E. Austria Jews Burned Alive

1422 C.E. Austria Expulsion

1424 C.E. Fribourg & Zurich Expulsion

1426 C.E. Cologne Expulsion

1431 C.E. Southern Germany Jews Burned Alive

1432 C.E. Savory Expulsion

1438 C.E. Mainz Expulsion

1439 C.E. Augsburg Expulsion

1449 C.E. Toledo Public Torture &. Burnings

1453 C.E. Franconia Expulsion

1453 C.E. Breslau Expulsion

1454 C.E. Wurzburg Expulsion
1456 C.E. Bavaria Expulsion 

1463 C.E. Cracow Mob Attack

1473 C.E. Andalusia Mob Attack
1480 C.E. Venice Jews Burned Alive

1481 C.E. Seville Stake Burnings

1484 C.E. Cuidad Real, Guadalupe, Saragossa & Teruel Jews Burned Alive

1485 C.E. Vincenza (Italy) Expulsion

1486 C.E. Toledo Jews Burned Alive

1488 C.E. Toledo Stake Burnings

1490 C.E. Toledo Public Executions

1491 C.E. Astorga Public Torture & Execution

1492 C.E. Spain Expulsion
1495 C.E. Lithuania Expulsion

1497 C.E. Portugal Expulsion

1499 C.E. Germany Expulsion

1506 C.E. Lisbon Mob Attack

1510 C.E. Berlin Public Torture & Execution

1514 C.E. Strasbourg Expulsion

1519 C.E. Regensburg Expulsion

1539 C.E. Cracow & Portugal Stake Burnings

1540 C.E. Naples Expulsion

1542 C.E. Bohemia Expulsion

1550 C.E. Genoa Expulsion

1551 C.E. Bavaria Expulsion

1555 C.E. Pesaro Expulsion

1556 C.E. Sokhachev (Poland) Public Torture & Execution

1559 C.E. Austria Expulsion

1561 C.E. Prague Expulsion

1567 C.E. Wurzburg Expulsion

1569 C.E. Papal States Expulsion

1571 C.E. Brandenburg Expulsion

1582 C.E. Netherlands Expulsion

1593 C.E. Brunswick Expulsion

1597 C.E. Cremona, Pavia & Lodi Expulsion

1614 C.E. Frankfort Expulsion

1615 C.E. Worms Expulsion

1619 C.E. Kiev Expulsion

1635 C.E. Vilna Mob Attack

1637 C.E. Cracow Public Torture & Execution

1647 C.E. Lisbon Jews Burned Alive

1648 C.E. Poland 1/3 of Jewry Slaughtered

1649 C.E. Ukraine Expulsion

1649 C.E. Hamburg Expulsion

1652 C.E. Lisbon Stake Burnings

1654 C.E. Little Russia Expulsion

1656 C.E. Lithuania Expulsion

1660 C.E. Seville Jews Burned Alive

1663 C.E Cracow Public Torture &. Execution

1664 C.E. Lemberg Mob Attack

1669 C.E. Oran (North Africa) Expulsion

1670 C.E. Vienna Expulsion

1671 C.E. Minsk Mob Attacks

1681 C.E. Vilna Mob Attacks

1682 C.E. Cracow Mob Attacks

1687 C.E. Posen Mob Attacks

1712 C.E. Sandomir Expulsion

1727 C.E. Russia Expulsion

1738 C.E. Wurtemburg Expulsion

1740 C.E. Liule Russia Expulsion

1744 C.E Bohemia Expulsion

1744 C.E. Livonia Expulsion

1745 C.E. Moravia Expulsion

1753 C.E. Kovad (Lithuania) Expulsion

1757 C.E. Kamenetz Talmud Burning

1761 C.E. Bordeaux Expulsion

1768 C.E. Kiev 3,000 Jews Slaughtered

1772 C.E. Russia Expulsion

1775 C.E. Warsaw Expulsion

1789 C.E. Alsace Expulsion

1801 C.E. Bucharest Mob Attack

1804 C.E. Russian Villages Expulsion

1808 C.E. Russian Countryside Expulsion

1815 C.E. Lubeck & Bremen Expulsion

1820 C.E. Bremes Expulsion

1843 C.E. Austria & Prussia Expulsion

1850 C.E. New York City 500 People, Led by Police, Attacked & Wrecked Jewish Synagogue

1862 C.E. Area under General Grant's Jurisdiction in the United States Expulsion

1866 C.E Galatz (Romania) Expulsion

1871 C.E. Odena Mob Attack

1887 C.E. Slovakia Mob Attacks

1897 C.E. Kantakuzenka (Russia) Mob Attacks
1898 C.E. Rennes (France) Mob Attack

1899 C.E. Nicholayev Mob Attack

1900 C.E. Konitz (Prussia) Mob Attack

1902 C.E. Poland Widespread Pogroms

1904 C.E. Manchuria, Kiev & Volhynia Widespread Pogroms

1905 C.E. Zhitomir (Yolhynia) Mob Attacks
1919 C.E Bavaria Expulsion

1915 C.E. Georgia (U.S.A.) Leo Frank Lynched

1919 C.E. Prague Wide Spread Pogroms

1920 C.E. Munich & Breslau Mob Attacks

1922 C.E. Boston, MA Lawrence Lowell, President of Harvard, calls for Quota Restrictions on Jewish Admission

1926 C.E. Uzbekistan Pogrom

1928 C.E. Hungary Widespread Anti-Semitic Riots on University Campuses

1929 C.E. Lemberg (Poland) Mob Attacks

1930 C.E. Berlin Mob Attack

1933 C.E. Bucharest Mob Attacks

1938-45 C.E. Europe Holocaust 
Jewish persecution
source:
 P.E. Grosser & E.G. Halperin, Anti-Semitism: Causes and Effects, New York: Philosophical Library, 1978
The causes and effects of anti-Semitism: The dimensions of a prejudice : an analysis and chronology of 1,900 years of anti-Semitic attitudes and practices.

What is 1,900 years of expulsion and persecution of the Jewish people from every Euro-Asian country showing us?
Now lets go back to the link of Judaism, Islam and Christianity. We have been led to believe that it is only a Jewish problem and that Germany or the Aryan people are the perpetrators of a great evil on god's
the chosen people
.
Let us sit with this dual exposure to try and decipher what is really going on. We have the chosen people of Israel that based on the
Talmud
and other rabbinical texts that relates to us that the Jews are God's chosen people and the rest of humanity is goyim or cattle. Juxtapose this with the Aryan people, who we are led to believe claim to be the Superior (white) race. Yet according to ethnological mythology we are told that the Aryans sprung from one of Noah's sons, Japheth after the flood. This is most likely pure nonsense and shouldn't take an intelligent person more than a brief study to realize this is a purposeful use of confusion in the minds of man.
We are speaking of Abrahamic religions that follow the
Noahic Covenant
.
Quote from linked article:
We should also be reminded that our God is a holy and righteous God who has a holy hatred for sin and who will not allow sin to go unpunished forever.
It is confounding for me to accept that a great majority of the world's population actually follows and practices rituals based on this interpretation of god. Even the good Christians, Jews and Muslims are following these tenants without even knowing they exist and never questioning them. So who or what is operating behind the curtain?
Fast forward: In the world of today without too far of a stretch we see that that war is prevailing on all people, everywhere. While some of us are blessed to be in places not yet touched we recognize that tyranny is not too far from our doorsteps.
US quits UNESCO: 'Israel setting agenda for Trump, Trump falls into line'
With the twisting of word meanings via the incessant use of propaganda along accompanied by the use of
Gematria
as a means in which to interpret biblical "verses" using a numerical value assigned to Hebrew and Greek letters we can observe a system that is based on a logical linear mind that seeks to know god systematically.

"Numerical analysis is the study of algorithms that use numerical approximation for the problems of mathematical analysis."
Many of us in the pursuit of Truth have examined the concept of a false god embedded in the human psyche to control us for he asks for obedience. The interpretations of what obedience indicates are multiple and confusing, dependent on what religion, rabbi, priest a person follows. We are also aware of a control system using artificial intelligence, microwave frequencies and scalar technologies that is literally beaming a false reality into the biome of the human being. This is an exhaustive study in itself for those who want to go deeper.
Something is vital is missing. And the question remains; "Who are those behind the scenes that seek to control?" I would further ask; "Is there a purpose for the presence of this entity?
Theories
:
A traumatic event in solar system that allowed the entry of a foreign entity - the Archon - the Predator - Artificial Intelligence or machine intelligence. There were either reasons for this, purposeful attack vectors from "outside" or was there a cosmic reason that it had to be this way. As JLL postulates in his work that the Aeon Sophia's fall from galactic center created unexpected or unknown discharges of energy that either created or brought with Her the parasitic element the Gnostics call archons.
Others and myself included have
relived
this event and since there are no texts or remaining writings to study we are dependent on our own genetic memories and the knowledge that all is recorded. For myself this is the expanding ability to hear the spirit of all things and more specifically
hear
the song of stone and the older trees that remain. Our Earth maintains a virtual or holographic memory of all that happened, knowable when one aligns with Her resonance. With the discovery of new stone circles, the ancient remains of civilizations and pyramids the world over we do have a more complete picture developing.
Question as to why the concentration of wars is in the Middle East, the ancient bed of civilization, Mesopotamia. It is long known that with the "advancement" and expansion of Christianity that ancient temples and stone circles were torn down with churches erected on their ruins. We see this in every culture even the Chinese buried their pyramids.
What is purposely being hidden, usurped or destroyed?
Is it possible that what I will refer to as the archon was able to infiltrate a group of people first, was it their language? Their intelligence or perhaps along evolutionary lines their DNA permitted the first infiltration. If we assume that this was not random and was directed from a quantum field of intelligence this parasitic entity would choose a specific group or race of people most suited to its purpose. Thereby effectively using the Jewish people as a shield to hide behind and from within?
With these thoughts comes a most vital one and that returns us to the field of universal love, for the answer will never come from a single race or color, it will not arrive simply by finding the right text or manuscript for the real truth contained within any doctrine is the same truth. We are each an individuated multiple of expression of a Divine Creative source. What I found in my own delving through the hidden material surrounding a very present timeline is that "the mechanized thought overlay" has not allowed us full penetration via our fears and prejudices.
My own search into the hidden material of the Third Reich is on going for what it can provide to collective humanity in liberation, the liberation not only of the individual but of nations and the full disclosure of technologies that were taken by the "sociopathic controllers" from the people … from noble intents to take back what was stolen.